Click here for further information : Click here for our 2021 WEBSITE | Home | Siemens | AllenBradley/Rockwell | Mitsubishi | SCADA |Training | PLC Communications | Emergency Support | Vision Software | contact us

No link between MR Control and any other company is implied or may be inferred from the information contained on this website.

<!==== start of "goto 2018 page =====> You've found this old page through google or another search engine, Please Click here for our 2021 WEBSITE




<!==== end of "goto 2018 page =====>
Rockwell
Allen Bradley PLCs

Back to Home Page

MR Control ltd

Allen Bradley Page
MR Control has developed a reputation for leading edge software design & programming.
We take advantage of the very latest Rockwell Automation hardware & software technology and make it work to the benefit of our customers. We have many years of experience in working with Rockwell PLCs in a wide variety of machine & process control applications. We support all Allen Bradley PLCs from the PLC2, PLC3, PLC5 and SLC500 ranges right through to today's powerful CompactLogix, FlexLogix and ControLogix PLC solutions.
We offer a complimentary range of FactoryTalk View SCADA solutions and machine based PanelView Plus HMIs. We take advantage of all that Rockwell has to offer particularly with the FactoryTalk Metrics suite of applications. We get hold of your plant floor production data and make it visible with automatic collection & reporting of data. FactoryTalk Metrics (similar to RSBizWare PlantMetrics) produces clearly defined reports allowing you to identify problem machines or equipment. Using FactoryTalk Transaction Manager (previously RSSQL) we can manage and store all your shop floor data and link to higher level manufacturing systems. We also integrate FactoryTalk Batch and FactoryTalk Historian to provide a complete range of manufacturing solutions. MR Control-installed FactoryTalk systems are saving our customers costly downtime and boosting their profits.
SLC 5/04 PLC controlling a Laminating Machine using remote DeviceNet I/O
Which Rockwell Allen Bradley PLCs can you program?

All of them (see below)

MicroLogix

Small I/O shoebox systems - cheap and simple to use (requires the Rockwell RSLogix 500 software)

ControlLogix series

Current range of large PLCs - very useful for certain machine motion systems (which are very simple to configure), possibly expensive otherwise compared to the SLC range.

The Logix 5550 and now the Logix 5555 have large amounts of memory (at last!) and use a TAG based logix, which will certainly prove popular with professional programmers, but may not find favour with occasional users. The programming software has some clearly unfinished areas such as cross referencing and print previews. The ladder is very reliable, but unfortunately the structured flowchart is not quite as robust.

FlexLogix series

Model for mid-range control applications

CompactLogix series

Low-end control systems - this is our recommendation for replacement of SLC and MicroLogix series systems, now some models available with Ethernet ports built in (at last, a PLC manufacturer who realises the future of PLC programming interfaces!)

PLC 5 series

Used to be the top end, very powerful PLCs, this range was the flagship of the Allen Bradley/Rockwell range before ControlLogix appeared.

SLC 500 series

Middle range PLCs typically with RS232 or DH1/DH485 ports

SLC 5/03

Middle range PLC with DH485 communication port, but oddly no DH+ port

SLC 5/04

Useful PLC with Data Highway+ and RS232 communication ports

SLC 5/05

The best SLC 500 PLC with Ethernet and RS232 ports.

PLC 2 series

Very old PLC, requires old or new programming software: TA, T3, T50 or PCMK card with PLC2 lead

PLC 3/10 Series and

PLC 3 series

Old PLCs, we do specialise in replacing these as well as PLC2s and PLC5s
Rockwell

Allen Bradley Graphics Systems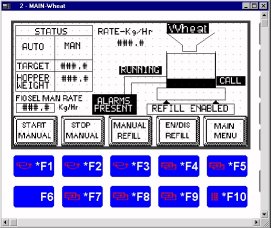 Panelview Configuration SoftwareConfiguration
| | |
| --- | --- |
| Which Allen Bradley Graphics Systems can you program? | All of them |
| PanelView 600 | Reliable, functional units with reasonable programming software. The range is now superseded |
| PanelView Plus | Reliable and easy to use (the latest configuration software is a big improvement), functional units with fair programming software. The range has now superseded the Panelview systems. it is much more flexible and powerful. |
| RS ViewStudio ME | Latest HMI System - very pretty and highly functional programming software |
| RS ViewStudio SE | Latest SCADA System - has many new features over the previous "RSView32". Highly powerful SCADA system |
| RS View32 | Powerful top end SCADA system - we have upgraded this to RSView many times. We still install this system for legacy sites. |
Rockwell Allen Bradley Programming Software
T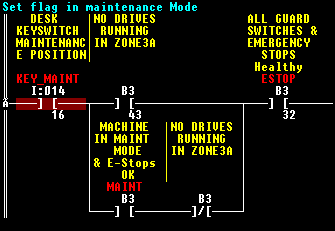 The old "AB 6200" Ladder
Which Allen Bradley programming software packages can you use?

All of them

6200 PLC 5 software (DOS)

Ancient DOS Programming Software

APS SLC 500 software (DOS)

DOS alternative to using the standard 6200 software

Rockwell RSLogix SLC 500 (windows)

Windows Version of the AB Programming software for programming the SLC Range of PLCs

There are two versions - one which is acceptable for low end SLCs (5/03 and below), the other which allows you to do "advanced" things such as on-line editing on the top end SLCs

Rockwell RS Logix PLC 5 (windows)

Windows Version of the AB Programming software for the PLC 5 range.
Rockwell RS Networx for DeviceNet

Used to program the DeviceNet I/O bus. Always ensure you have the *very* latest version of the module EDS files (and don't forget the 121 ohm resistors!)

Rockwell RS Networx for ControlNet
Like the above version but for setting up ControlNet systems
FactoryTalk View Studio
Current Software (as of 2021), required to program FactoryTalk View ME or SE SCADA and the "Panelview Plus" range of operator panels
Rockwell Panelbuilder
Required to program the old panelview range of operator panels
Rockwell RS Linx
Required to link PCs to PLCs for Rockwell software. Various versions are available, lite for PLC programming, higher versions for linking (for example) Intouch and Excel .

What do you recommend?

We use all versions. Complex communications is much easier in the Windows version, and this is the way of the future.
Allen Bradley Programming Hardware
| | |
| --- | --- |
| Which Allen Bradley Hardware Programmers do you use? | Most of them (so we can always backup your ancient PLC if required) |
| T3 | Very old Custom Programmer - programs the PLC3 and PLC 2 family |
| T50 (DH+) | Old Custom Programmer - it's a PC with specialist cards installed, extremely expensive. This could program PLC2, PLC3 and PLC5 |
| KT/KTX Card in PC (DH+) | This was the cheapest and best method (unless you have a portable with no slots when you have to use the PCMK card) |
| 1747-PIC (DH485) | Again, this was the cheapest and best method of programming the DH485 on low range SLC CPUs (up to SLC 5/03). You'll need Windows 98 for this, do not try it in Windows 7/8/10. |
| RS232 | You can use a simple RS232 lead (null modem) to program some SLCs and PLC 5s. This does depend on the configuration loaded (the configuration can disable the RS232 port and convert it to DH485) so beware! |
| PCMK Card (DH+, 485) | Very useful, but not so easy to use now no PCs come with PCMCIA sockets! |
| Ethernet | By far the best solution - today, most Rockwell PLCs come with Ethernet ports (apart from some SLCs) |
---

Back to Home Page
(c) MR Control Ltd 1999-2021
Disclaimer All information contained on this website is solely our opinion only and no liability is implied or can be construed in any manner whatsoever using the accuracy of the information which may be found (or inferred) here. MR Control makes no endorsement, representation or warranty regarding any contents located on this site. You understand that any content or other information offered on or through www.mrcontrol.co.uk is provided for informational purposes only. You should evaluate any content or other information offered in light of your own individual circumstances. MR Control does not guarantee the accuracy, adequacy, completeness or availability of any content or other information on this website and is not responsible for any errors or omissions or for the results obtained from the use of any such content or other information. No link between MR Control and any other company is implied or may be inferred from the information contained on this website.
Last modification 18th June 2021